Hidden
Create a Website for Your Ministry
Over 1,400 churches around the world have chosen Sharefaith websites. Here's why…
Service

One pastor called our service "pure gold". No matter how you describe our service, our Happiness Engineers are here to help you via phone or email support.

Safety

Customers feel safe using Sharefaith websites because they don't have to worry about unwholesome advertisting or inappropriate websites being hosted on the same server.

Value

You get so much more than a web service. Not only do you get great looking website templates, you get everything we offer: websites, PowerPoints, videos, and more in one low price.
Choose a template and click the "Build It" button to setup your website!
---
Website Template Features
Choose from over 23 templates &amp change your look as often as you like. New template designs are added each month!
Upload your logo
Add rotating homepage banners
(view Sharefaith banners)
Add your own sidebar images
(view Sharefaith sidebar images)
Requires no programming knowledge
Unlimited pages and sub-pages (password protect pages, too!)
Edit your site from any computer
Upload images, audio, PDFs, and more
Broadcast your own audio & video sermons
Allow multiple people to edit your website
Integrate with Google Calendar
Securely accept online donations
Build your new website while your current website is live
Phone and email support
Video website tutorials get you on the web in no time
Use your existing domain name or purchase a new name
Setup up to five websites with one Sharefaith membership
How to Get Started
Sign into Sharefaith

Sign into your Sharefaith account. Website templates are free for all Sharefaith members. If you are not yet a member but want the website templates, signup for a one year membership to gain access.

Choose your template

Select your template and click the "Build It" button to get started.

Add your domain name

Provide your information along with your domain name or what domain you want to register and submit the form.

Jump for joy!

Within 48 hours your new site will be setup with the template you chose and you'll receive an email with instructions on how to log in so you can customize your site.
Pricing
Choose from over 23 FREE templates!

Sharefaith's website templates are FREE with your membership, you only pay for website hosting.
Choose/transfer a domain name - $18.99/yr

Sharefaith let's your transfer a domain or register a new domain name for your church or ministry. Domain names are just $18.99/year.
Choose a hosting plan

We offer two convenient pricing packages for web hosting.
Monthly: $19.99/month
Yearly: $179.88/year with 12 month contract - a 25% saving!
Hosting Specs
24GB Storage
100GB Bandwidth
200 Email addresses
Unlimited phone and email support
Setup 2 websites at no extra cost (sites 3-5 are just $2/month/site extra)
Is there phone support?
Can we use our same domain name?
Can we transfer our domain name to you?
Can we purchase a new domain?
Can we setup more than one website?
Can multiple people log into the site to make changes?
Do you offer online tithing and donations?
Can I post events to a calendar?
Is there podcasting?
Can I upload my weekly sermons?
Can I add videos to my site?
Can I have unlimited pages?
Can the template be changed at anytime?
Can I add more than 2 rotating homepage banners?
Do you have banners I can download?
Can I upload my own banners?
Can the sidebar widgets/images be different on each page?
Can I link my church website to Facebook or Twitter?
Will the site get free website upgrades?
Are your church websites compatible with all modern browsers?
Can I setup a website for our school or other organization?
What if every church could have a professional website? Now you can!
The Clear Church Website Winner!

After searching for a reasonably priced, easy to update, professional looking website for our church, Sharefaith was the clear winner. I can't believe we could have a website this good as part of our membership. Their tech support is quick, responsive, and very helpful. Bravo, Sharefaith!

Easy For Our Entire Staff

Sharefaith's church website has made my job easier. As a web designer and webmaster for our church using Sharefaith has given me the ability to allow other people on staff not versed in all the technical aspects of web creation to do in on their own and still have a professional, clean and organized website that is appealing to our target audience.

Your Website Template Selection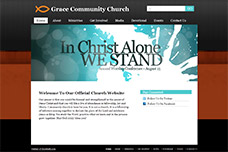 What's going to happen next?
Your next step is to choose a hosting plan with Sharefaith's hosting partner TRUEPATH.
TRUEPATH is a Christian web hosting company, providing exceptional customer support and quality hosting. Truepath does not host any pornographic websites, making them an ideal partner and solution for churches and ministries around the world. Click on the button below to continue!
We couldn't find any lessons matching your search
please try another search